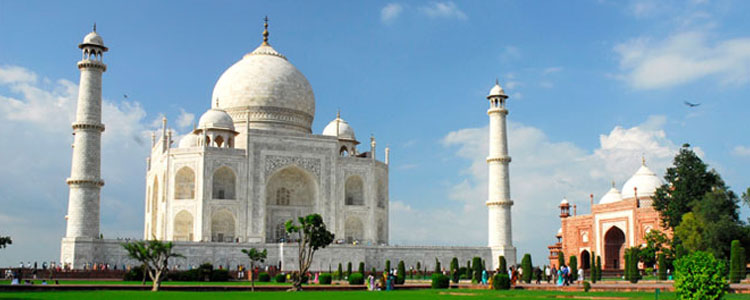 Agra City Tour With Fatehpur Sikri
Duration : One Day
Destination : Delhi - Agra - Delhi
Monuments covered: Taj Mahal - Agra Fort - Fatehpur Sikri - Baby Taj
Tour Overview:
Agra is a wonderful city and is found on the edge of the Yamuna River in the state of Uttar Pradesh. It is among the most visited towns of India and is famous for its panoramic and compelling brilliance of Mughal architecture and the splendor of Taj Mahal. It was constructed by the Muhgal ruler Shah Jahan for his wife, Mumtaz Mahal whom he loved dearly. This symbol of love is made out of white marble and it took approximately 20 years fof skilled labor of 20 thousand skilled craftsman to create this wonder of the world. This beautifully piece of art is one of the chief reason why people coming from different parts of the world include Agra City Tour in their itinerary.
Despite this, some other places that are worth visiting on your Agra city tour are Agra Fort, Baby Taj, Fatehpur Sikri which is nearly 40 kms fro Agra and was once the capital city of Akbar the great. So, plan your trip to this Mughal city and experience the cultural heritage of this city.
Overview Agra City Tour With FATEHPUR SIKRI :
A city set on the banks of river Yamuna, Agra is one of the world's most beloved tourist destinations. Lying in the heart of Uttar Pradesh, its history dates back to the time of the Mughals. Agra is home to many popular places including Agra Fort, Baby Taj, Fatehpur Sikri, and most importantly, Taj Mahal, one of the 7 Wonders of the World. Millions of worldwide visitors pour in every year to experience the picturesque locations of Agra, which was once Home to some of the Greatest Mughal Rulers like Akbar and Shahjahan. It is an experience that ought to be lived at least once in a lifetime.
Itinerary of Agra City Tour With FATEHPUR SIKRI
1
At 6:30 am :

Pick up from hotel

We begin our journey in the morning when you'll be picked up from your place of stay to experience the beautiful sunrise view of the Taj Mahal.

OR
2
At 8:30 am :

Pick up from Railway station

For our esteemed customers, we also provide pickup from the Agra Cantt (AGC) railway station. Our driver and guide with a sign name (to make it easy for you to find them) will be present at the exit gate of the railway station to welcome you. You will then proceed for Taj Mahal's sunrise view.

Shahjahan's most beloved wife Mumtaz passed away while giving birth to their child. Taj Mahal was built by Shahjahan in her memory, as a symbol of his love towards her. We ensure our customers don't miss out the quaint sunrise view of the Taj Mahal when the first rays of sun falling on it make its white marbles shine like gold.

Note- the Taj remains closed on Friday.
3
At 11:00 am :

Proceed to the Agra Fort

4
At 01:00 pm :

Lunch Break

India is known for its exotic dishes, and Agra is at the epitome of serving those. We ensure our customers do not miss out on the opportunity of tasting the true flavors of India in the opulent and well-known restaurants of Agra.
5
At 02:00 pm :

Visit to Fatehpur Sikri

6
At 05:00 pm :

In the evening

We're now in the latter half of the day, and get started for our return to Agra. The spectacular tour of Agra ends with a sunset view of the Mehtab Bagh. Instead of Mehtab Bagh, we also offer the flexibility of visiting Baby Taj to our customers if they wish to.
7
At 07:00 pm:

Proceed to your hotel

Your splendid tour of Agra comes to an end as you proceed to your hotel or the Railway station for your journey ahead.
Agra City Tour Hightlights
The Golden view of Taj at the time of Sunrise
An enjoyable tour of Agra Fort
Visit the Ghost City Fatehpur Sikri
Agra City Tour Cost Inclusions :
Taj Mahal, Agra Fort, Fatehpur Sikri & Mehtab Bagh Guided Tour
Private Tour in Toyota AC CAR & Guided Tour Fee included.
All Parking, Toll Taxes, Driver, Fuel
All Four Monuments / Entrance Fee for Foreign & Non Indian Residents tickets
Sites Expenses including Battery Car ride
English Speaking Guide for all day
Lunch & Drinks in Multi Cuisine AC Restaurant
Tour Cost Exclusion :
Any kind of Personal Expenses such as Monument Tips, Laundry, Telephone Bills and Alcoholic beverages.
Camera Fees (Still or Movie).
Unspecified Meals etc. & Tipping.